III. Stage works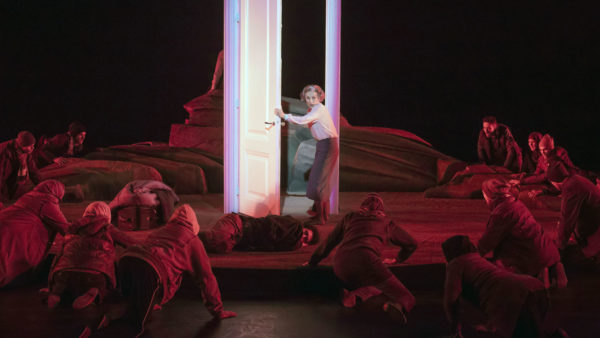 ---
3a. Opera
---
2002 DARK (67)
opera for soprano and chamber ensemble
– composed for the Rosa ensemble and Jannie Pranger
– dedicated to Edzard Mik
– libreto: Edzard Mik [Dutch]
– commissioned by the Fonds voor de Scheppende Toonkunst
– directed by Paul Koek and produced by Z.T. Hollandia
– premiere: 28 February 2003, Schouwburg, Haarlem
– duration: ca. 120 min.
published by: Donemus
---
2004 VITA NOVA (69)
chamber opera for alto baroque violin, viola da gamba and harpsichord
– text: La Vita Nuova by Dante  [English & Italian from the original]
– directed by Berend Strik and produced by Korzo Theater in the Hague
– commissioned by the Amsterdamse Fonds voor de Kunst
– premiere: 5 of May 2004 at the Korzo theater in the Hague
– duration: ca. 90 min.
published by: Donemus
VITA NOVA (69a) [→ 1b. Solo voice with other instrumental accompaniment]
for alto and harpsichord
– the first part of the chamber opera Vita Nova was composed for Ayelet Harpaz and can be performed independently.
– text: La Vita Nuova by Dante [English & Italian from the original]
– premiere: Ayelet Harpaz during the Gaudeamus Festival, 15 May 2004, Fracati, Amsterdam
– duration: ca. 12 min.
published by: Donemus
---
2010 VESUVIOUS 1927 (92)
for tenor and tenor recorder
– one minute opera composed for the TV program De Wereld Draait Door on the occasion of the death of Harry Mulisch
– text: P.F. Thomese [Dutch]
– premiere: TV show DWDD of 1 November 2010 , Marcel Beekman (tenor), Anthónio Carilho (recorder)
– duration: ca. 1 min.
published by: Donemus
---
2015 MARIKEN IN THE GARDEN OF DELIGHTS (MARIKEN IN DE TUIN DER LUSTEN) (109)
opera in three acts
– Mariken (actress), Uncle (baritone), Aunt (alto), Moenen (tenor), Pope (countertenor)
– Small Female choir (3 to 6 singers) ; Medieval trio (recorders, organetto, harp & hurdy gurdy) & Chamber ensemble (oboe, bassoon, horn, trombone, string quintet & percussion)
– libretto: Karim Ameur & Serge van Veggel, derived from the original early Dutch/flemish theatre play Mariken van Nieumeghen. It is the first known published theatre Dutch text from 1515. [Early Dutch/Flemish]
– commissioned by the opera company Opera2day, with the financial support of NFPK
– premiere: 11 October 2015, Royal Theatre Hall, The Hague.
– Coproduction Opera2day & Dutch National Theater ASKO|Schönberg, Cappella Amsterdam & Tetraktys medieval ensemble of Kees Boeke.
– The opera was performed 20 times in various theatre halls in the Netherlands (Amsterdam Royal Theatre Hall, Amersfoort, Breda, Deventer, Maastricht, Den Bosch, Eindhoven Almere, Alkmaar, Zwolle, Tilburg, Nijmegen, Groningen, Arnhem)
– Mariken: Hanna Hoekstra ; Uncle: Harry van der Kamp ; Aunt: Jill Feldman ; Moenen: Julian Podger ; Pope: Michael Chance ; Choir: Cappella Amsterdam
– Tetraktys medieval ensemble: Kees Boeke, Claire Piganiol, Tobie Miller
– ASKO|Schönberg, Conductor: Hernán Schwartzman, Opera direction: Serge van Veggel
duration: ca. 120 min.
published by: Donemus
---
2017 FORTRESS EUROPE (112)
opera with a prologue and 5 scenes
-Europe (soprano), Frans (Politician & Europe's son) (tenor), Amar (Refugee) (baritone), mixed choir & chamber ensemble consisting of: Oboe, Harp, Percussion, Violin, Viola, Violoncello, Contrabass.
– libretto: Opera Trionfo
– commissioned by: Opera Trionfo with the financial support of NFPK
– premiere: 20, 21 & 22 March 2017 at the Stadschouwburg (Rabozaal) in Amsterdam.
– In collaboration with Opera Forward Festival 2017 of The Dutch National Opera, Opera Trionfo and Asko|Schönberg Ensemble.
Extra performances:
– 14 May 2017 during Opera days festival in Rotterdam, at the Rotterdamse Schouwburg
– 8 November 2017 during November Music Festival 2017 in de Bosch at the Theater aan de Parade
– Europe: Rosemary Joshua ; Politician: Erik Slik ; Refugee: Yavuz Arman Isleker ; Choir: Dutch Student Choir
– Conductor: Bas Wiegers
– Stage Director: Floris Visser
– duration: ca. 90 min.
published by: Donemus
---
2021 CAPODISTRIAS (136)
chamber opera for piano solo, bass-baritone, basset horn and string ensemble
– commissioned by the Greek national Opera Alternative Stage
– composed as part of the tribute to the 2021 bicentennial of the Greek Revolution.
– premiere: Greek National Opera, Alternative Stage, 1 October 2021
– duration: ca. 80 min.
published by: Donemus
---
3b. Oratoria
---
2008 ST. LUKE PASSION (ΠΑΘΗ ΚΑΤΑ ΛΟΥΚΑΝ) (84)
oratorio in 4 parts for tenor, byzantine singer, 3 madrigal singers, 3 byzantine singers, one oriental female singer, kemençe, ney, qanun, and chamber ensemble.
Parts:
1. Hymnos (Ύμνος)
2. Aria (Άρια)
3. Threnos (Θρήνος)
4. Pathos (Πάθος)
– composed for Ioannis Arvanitis and members of his Byzantine choir, Marcel Beekman, Egidius Kwartet, Harris Labrakis (ney), Bassem Alkhouri (qanun), Neva Ozgen (kemençe), Nieuw Ensemble conducted by Ed Spanjaard
– text: fragments from Saint Luke Gospel & fragments from hymns by Romanos the Melodist [Byzantine Greek]
– commissioned by the Fonds voor de Scheppende Toonkunst
– premiere: 5 June 2008, Muziekgebouw aan 't IJ during the Holland Festival 2008.
– duration: ca. 120 min. (including one interval)
published by: Donemus
O EN TIS OURANÍS (2011) (84a) [→ 1b. Solo voice with other instrumental accompaniment]
fragment from St. Luke Passion especially arranged for tenor Marcel Beekman and baroque ensemble for his concert "Viagem no Tempo"
for tenor , recorder, baroque violin, viola da gamba, archlute, harpsichord & organ
– text: fragment from Saint Luke Gospel [Byzantine Greek]
– premiere: 19 February 2011, Muziekgebouw aan 't IJ, Marcel Beekman (tenor), Anthónio Carilho (recorder), Antoinette Lohmann (baroque violin), Mieneke van der Velden (viola da Gamba), David van Ooijen (archlute), Marco Vitale (harpsichord), Fabricio Acanfora (organ)
published by: Donemus
---
2012 MARIA (94)
oratorio in four parts
PSALMOS  I
HESPERINOS
PSALMOS II
PARAKLISIS
– texts: Akathistos Hymnos (anonymus), Romanos the Melodist (Hymns 19, 36), Psalms 140, 141, 142, Kostis Palamas (Mistiki Paraklisi) [Byzantine & New Greek].
– composed for the Netherlands Wind Ensemble, Gesualdo Consort, the Byzantine singers Ioannis Arvanitis & Michalis Koullias, Karl Nyhlin (theorbo), Paulina van Laarhoven (viola da gamba), Dimitris Psonis (santur).
– commissioned by the Nederlands Fonds voor Podiumkunsten
concerts:
– 29 March 2012: Arnhem, Musis Sacrum
– 30 March 2012: Haarlem, Philharmonie
– 1 April 2012: Den Haag, Theatre De Regentes
– 3 April 2012: Zoetermeer, Stadstheater
– 4 & 5 April: Muziekgebouw aan 't IJ, Amsterdam
duration: ca. 80 min.
published by: Donemus
---
2014 OIDÍPOUS (103)
oratorio in 6 parts for three singers and baroque chamber orchestra
Antigoni (soprano), Koryfeos (tenor), Oidipous (bass)
Baroque chamber orchestra: traverso, baroque violin, cornetto, viola consort: (3 violas & violone), trombone consort (3 trombones), 2 theorbos, organ
– libretto: Edzard Mik based on the tragedies of Sophocles, Oedipus Rex and Oedipus te Colonus, [Ancient Greek]
– commissioned by Holland Festival with the financial support of NFPK.
– premiere: 29 & 30 June 2014, Muziekgebouw aan 't IJ
– mise en espace: Pierre Audi
– Antigone: Nora Fischer ; Koryfeos: Marcel Beekman ; Oidípous: Harry van der Kamp
– Baroque Chamber Orchestra: De Nederlandse Bachvereniging, conductor: Jos van Veldhoven
– duration: ca. 90 min.
published by: Donemus
"Oidipous" was performed twice as the last performance of the 2014 Holland festival. The last concert was performed only for the H.F. friends, celebrating the end of the artistic direction of Pierre Audi.
---
2019 LIKNON (125)
Requiem for countertenor, tenor and baroque ensemble
– text: Fragments from Paraklitikos Kanon for Theotokos Gorgoepikoos by Nikodimos Agioritis (1749 Naxos – 1809 Athos); Fragments from Theotokarion by the Cretian monk Agapios (1580 Crete – 1656 Venice) [in the original language: Greek-Byzantine]
– commissioned by November Music in the context of Bosch Requiem 2019
– premiere: All Souls Day, 2nd of November 2019 during the November Music Festival 2019 Edition
– duration: ca. 75 min.
published by: Donemus
FOS ANESPERON (2019) (fragment from Liknon) (125a) [→ 2a. Solo instrument]
for harp
duration: ca. 5 min.
published by: Donemus
---
2020 MEMENTO NOSTRI (128)
Requiem for mixed choir, recorder quartet and viola da gamba quartet
– text: Requiem text & Fragments from funeral "Troparia" written by Saint Johannes Damascenus the Chrysorrhoas, (Damascus c. 675 – near Jerusalem 4 December 749)
– commissioned by Chamber Choir Ad Parnassum
– premiere: November 2021 at the Abdij Onze Lieve Vrouw van Koningshoeven, Tilburg
– duration: ca. 60 min.
published by: Donemus
---
3c. Theatre / Dance
---
1995 NADERE KENNISMAKING (37)
music theatre piece for amateurs (tenor, baritone, soprano, female choir and chamber ensemble)
– text: Willem Brakman, Martinus Beversluis [Dutch]
– commissioned by the Netherlands Centre for Amateur Theatre
– premiere: Theater Cosmic, Amsterdam
– duration: ca. 40 min.
published by: Donemus
---
1996 MEDEA (42)
music for theatre performance (viola & 3 women voices)
– text: Euripides, Medea [Dutch]
– commissioned by the Noord Nederlands Toneel
– premiere: Noord Nederlands Toneel, theater direction Agaath Witteman, 1996, Groningen
published by: Donemus
---
1996 HIPPOLUTOS (46)
music for theatre performance (soprano saxophone & women choir)
– text: Euripides Hippolutos [Dutch]
– commissioned by the theatre De Engelenbak
– premiere: 11 January 1997, theatre De Engelenbak, Amsterdam
– theater direction: Agaath Witteman
published by: Donemus
---
1997 SIREN (50)
for actor/performer & chamber orchestra
– text: fragments from the book 'Tha ypografo Louis' by Rea Galanaki [Greek]
– commissioned by the Fonds voor de Scheppende Toonkunst
– premiere: Asko Ensemble, 9 December 1997, Paradiso (Proms serie), Amsterdam
– duration: ca. 30 min.
published by: Donemus
---
1998 ETHER (52)
music for dance composed for electric guitar, oboe and double bass.
– commissioned by Stichting Danswerkplaats Amsterdam for the dance performance 'Eter/Ether', created by the choreographer Anouk van Dijk
– duration: ca. 30 min.
published by: Donemus
---
1999 VIAJE A LA LUNA (56)
music theater for oboe, violin, viola, cello & guitar based on the F.G. Lorca's film script "Viaje a la Luna" [Spanish]
– commissioned by Stichting Theaterwerkplaats Limburg 'Het Huis van Burgondie'
– premiere: theater direction: Noel Fischer, 19th of May 1999, "Het Huis van Bourgondië", Maastricht
– duration: ca. 60 min.
published by: Donemus
---
2009 TROADES (88)
for ney and percussion
– composed for the theatre performance of the tragedy Troades by Euripides
– Production by the National Theater of North Greece, director: Niketi Kodouri
– premiere: 2 July 2009 in Thessaloniki
– Other performances: 8th of July in Delphi, 7th & 8th of August in the Antique Theatre of Epidaurus.
published by: Donemus
---
2022 STORM (143)
or 6 dancers, clarinet, theorbo and double bass
– commissioned by Leine Roebana Dance Company
– composed for the dance performance "Storm" produced and choreographed by the dance company of Leine Roebana
– premiere: 19 March 2022 at the Chassé Theatre in Breda (NL)
– duration: 60
published by: Donemus