Calliope writes organ piece after the fire in Notre-Dame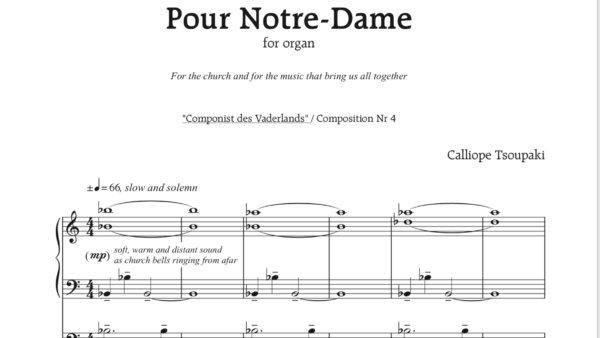 Composer Laureate Calliope Tsoupaki was deeply moved and shocked by the fire in Notre-Dame.
Immediately after the fire she composed a solo piece for organ: 'Pour Notre-Dame'. "For Our Lady, for the cathedral and for the music that brings us all together." Organist Jan Hage will perform the world premiere at the Dom Cathedral in Utrecht on April 20 at 15.30.
We call on other organists to play the piece as well, expressing solidarity with the cathedral and the organists of Notre-Dame, who will miss their instrument for years to come. The score is available as a free download here.
Are you going to play 'Pour Notre-Dame'? Share with us the details of your perfomance in a reply to this announcement on Facebook. Then we will include it in the agenda of componistdesvaderlands.nl.