World Premiere December 16 – Perasma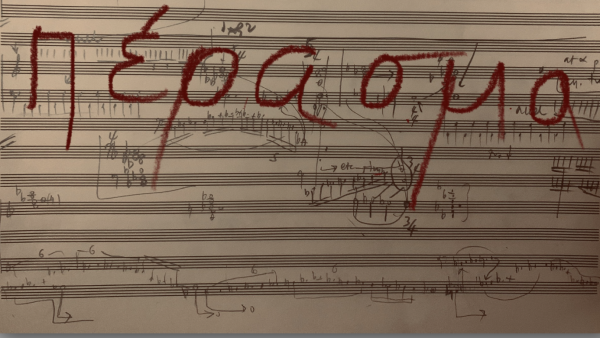 Specially composed for the Residentie Orchestra & Anja Bihlmaier

World premiere: 16 December 20.00 Amare The Hague
Second concert: 18 December 15.00 Tivoli Utrecht
---
Perasma = passage, passing, course, way, ford, crossing ….
the passing of time the passing of life
steps in time
a continuous transition from moment to moment
always moving away
dreams turning to life
life becoming life all over and all over again
an ever going transition
I walk in my life in my time
I walk in the meadow of the space in time
I recognise as my life, my memories,
my flowers, my trees, my hills, the seaside ….
I know this landscape, I know it well,
my beloved ones are holding my hand
eyes looking ahead at the turning point
the other side, the other place
one more dream to come
one more place to be
one more place to leave behind. 
---
Tsoupaki was looking forward to a renewed collaboration after the orchestral premiere of her composition Thin Air (performed in April 2021) with the Residentie Orkest. With Perasma, she wants to bring out the warm sounds of the orchestra.
The new work has many different layers, both musically and in terms of meaning. Perasma is a term/word that has its origins in the Greek language and mythology.
It refers to a moment in life when one realizes that you cannot get the past back, no matter how much you want to. But at the same time, you are open to the future, even if you don't yet know what it will bring. Tsoupaki's new work is therefore an experience with room for one's own interpretation.