World Premiere : VER AETERNUM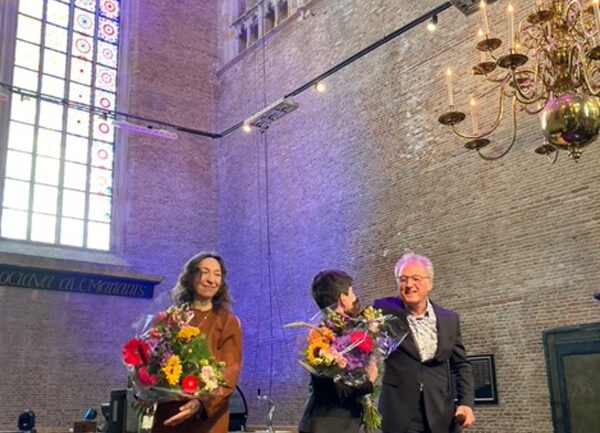 VER AETERNUM (eternal spring)
9 October 2023 open to the public
At the Grote Sint LaurensKerk
Solo organ version
Specially composed for the grand opening of Het Grote Raam "The light of Freedom"
The 23 meters high and 6 meters wide stained glass Large window created by the artist Fiona Tan & the world-famous Van Hagerbeer/Schnitger organ. It is a sensation to see the curtain ascending and listening to the music at the same time
Tomorrow for VIP (chamber ensemble version organ viola cello and flute)
More info about this amazing project:
On October 6, 2023, The Grote Kerk of Alkmaar was enriched with the highest stained glass window in Europe, 23 meters high and 6 meters wide. The Large Window was designed by visual artist and filmmaker Fiona Tan.
The reason for this work of art is the anniversary celebration of Alkmaars Ontzet. In 2023 it will be 450 years since Alkmaar was the first Dutch city to liberate itself from the Spanish occupying army during the Eighty Years' War. The expression "Van Alkmaar de Victorie" has introduced generations of Dutch people to this historic feat.
With a new monumental glass artwork in De Grote Kerk, Fiona Tan gives a contemporary interpretation to the theme of freedom. The design is based on the principle of a kaleidoscope. The stained glass window creates sparkling color effects, which change from minute to minute. The work of art symbolizes unity in diversity and celebrates freedom with a festival of color and light: "The light of freedom"
Calliope Tsoupaki was asked to write a composition for this work of art that will have its world premiere at the unveiling of The Great Window. In Tsoupaki's piece, entitled Ver Aeternum (eternal spring), the world-famous Van Hagerbeer/Schnitger organ in the Grote Kerk of Alkmaar plays a leading role. The line-up also consists of cello, viola and flute.
Just as Fiona Tan's stained glass artwork will be on display for centuries to come, it is also the express intention to perform Ver Aeternum by Calliope Tsoupaki every year on October 8 during the celebration of Alkmaar's Relief in the Grote Kerk.