Into Space – Premiere 4th of June – Groene Kathedraal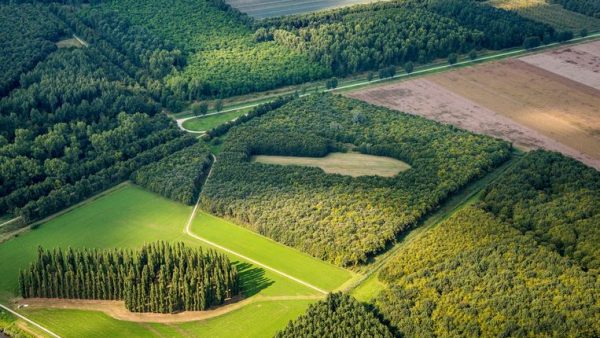 Photo by: Siebe Swart
The renovated Groene Kathedraal will be festively reopened on the 4th of June, during the Land Art Weekend, with a concert by Black Pencil. The music company from Almere has asked composer Calliope Tsoupaki to create a composition especially for this special work of landscape art.
Commissioned by the province, Black Pencil will provide the musical interpretation at the reopening of four Flevoland landscape artworks that have been refurbished. In addition to the Groene Kathedraal in Almere, they are Sea Level and Aardzee in Zeewolde and the Observatorium in Lelystad.
"We asked four top composers to be inspired on location and each write a piece for one of these landscape artworks," says Jorge Isaac, artistic director of Black Pencil. "We walked and brainstormed with them on location, so the composers could feel the energy of the place."
Groene Kathedraal
The Groene Kathedraal by artist Marinus Boezem is first up. "This is such a magical place," Isaac thinks. "The concept is beautifully conceived. Putting up a cathedral to give identity to this young city. Without walls, but with trees." For this artwork, Black Pencil asked composer Calliope Tsoupaki to write a piece.
"When she walked through the landscape artwork, she became genuinely emotional. She was touched not only by the artwork itself, but also by the location, surrounded by a highway, bike path and new residential area."
Her composition, which will soon be performed on location by Black Pencil, is also called "Into Space. The musical reopening of the Green Cathedral will be on June 4 at 11:00 am during the Land Art Weekend Flevoland.
100 years of Almere
On June 4 and 5, Black Pencil will also present the continuous virtual reality performance '100 years of Almere' at the Groene Kathedraal from 1 p.m. to 4 p.m. "In collaboration with video artist Marcel Wierckx and composer Arnoud Noordegraaf, we will pay tribute to this young city, while also looking ahead to what Almere could be like in the future." With images from the city archives and live music, where the audience takes a seat in the Green Cathedral with VR glasses on.
Sunsation Festival Observatory
June 17 and 18 will see the reopening of Robert Morris' Observatory in Lelystad. "For this I immediately thought of Yannis Kyriakides. He is incredibly good with electronics and deals with abstract, but at the same time concrete subjects. We are going to play his piece 'Observatory' during the Sunsation Festival, on June 17 at 8:30 pm and on June 18 at 6:00 am."
Earth Sea and Sea Level
Composer Meriç Artaç, originally from Turkey, is writing a piece for Piet Slegers' landscape artwork Aardzee in Zeewolde. "I knew she would get the abstract shapes of Aardzee and she immediately loved the artwork. That's what's so great about Land Art, it does something to you when you walk around it." Finally, Aart Strootman was asked to create a composition for Sea Level by American artist Richard Serra in Zeewolde. "This work of art is more intellectual and a bit harder to understand. I had the young composer Aart Strootman in mind for this and this artwork immediately turned out to be his preference. All in all, we found four very good matches."
At the reopening of the artworks, Black Pencil will always give a 40-minute concert in which art, nature and music come together. The new compositions will be given a prominent role. For more information about the events, visit www.blackpencil.org
Translated from Almere deze week – May 23 2022, 14:00
"Black Pencil Verzorgt muzikale heropening Landschapskunstwerken"